Mr Peter Riordan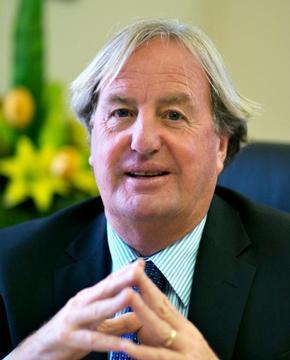 Established in 1996, Simonds Catholic College is a secondary school for boys in the inner city of Melbourne. Our small size (410 boys in Years 7 – 12) means that each boy can be individually known, valued and have a sense of belonging. Our excellent facilities enable us to offer a broad and exciting curriculum within the setting of a small school. Our proximity to the beautiful St Mary's Church in West Melbourne means that boys are provided with frequent opportunities to reflect, pray and celebrate the Sacraments in an inspiring and historical religious setting.

Our point of difference is our commitment to increasing the learning opportunities of our students by deliberately limiting the size of classes. There is a maximum class size of 24 students in Years 7–10 and the average VCE class size is just 14–15 students. These small class sizes facilitate the development of a culture of learning and students are also issued with a laptop to provide them with enhanced opportunities to access the curriculum through 21st Century technologies. We are also affiliated with the Associated Catholic Colleges and compete against other schools in various sports, debating, public speaking and chess competitions as well as Eisteddfods and band concerts.

We have developed a staff that have excellent professional qualifications and are committed to providing a high standard of education in an environment of mutual support. Our teachers are always generous in their commitment of time to students and share a genuine concern for their pastoral needs. Student progress is closely monitored by using appropriate benchmarks and standards to ensure that every student is given the opportunity to reach his full potential and 'be the best that he can be'.

Simonds Catholic College is an excellent school that provides high quality programs to students with a spiritual, academic, social, sporting and cultural dimension. I commend it to you for your consideration as a school that will provide a quality education within a caring environment.
Simonds Catholic College is a school where the individual matters.

Mr Peter Riordan